After Hurricane Frances in 2004 most boats were missing from their mooring balls.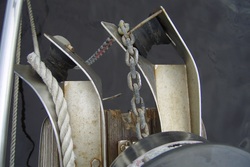 The eye of Hurricane Frances passed right over the mooring field at Stuart, Florida near the Roosevelt Bridge.
Florida Buoy 1 stayed on the mooring ball, and the only damage was bent bow rollers.
Aproximately 12 of the 90 some boats on mooring balls were left after the storm.
---
---